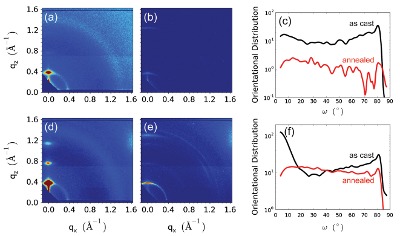 Citation
Allen, J.E.; Yager, K.G.; Nam, C.-Y.; Hlaing, H.; Ocko, B.M.; Black, C.T. "Implementing nanometer-scale confinement in organic semiconductor bulk heterojunction solar cells"
Journal of Photonics for Energy
2012
,
2
021008.
doi: 10.1117/1.JPE.2.021008
Summary
We describe in detail the fabrication of thin films of nano-confined OPV materials (P3HT/PCBM), and consider the effect of this confinement on device performance.
Abstract
We discuss fabrication processes for implementing nanometer scale confinement in an organic bulk heterojunction device architecture, including formation and integration of the confining self-assembled template. Such confinement has a beneficial influence on the electrical properties of blended poly(3-hexylthiophene): [6,6]-phenyl-C61-butyric acid methyl ester organic solar cell active layers. Crystallization of the blend upon annealing is inhibited by the confining template, which we understand through analysis of x-ray scattering measurements.